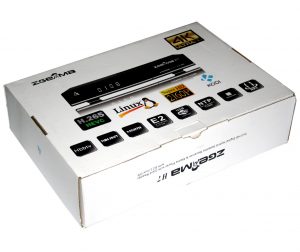 Tek2000 is pleased to announce the debut of the ZGemma H7 (North America Edition) 4K satellite receiver. This receiver will demodulate QPSK, 8PSK, 16APSK and 32APSK signals and decode MPEG2, MPEG4 and H.265 (HEVC) video with a maximum resolution of 2160p (UHDTV). The unit includes two DVB-S2 (pluggable) satellite tuners and one ATSC Terrestrial tuner. This will also be the only TVRO satellite receiver with real-time EPG satellite information available for all satellites! More information about this feature will be forthcoming.
There are currently several full-time 4K (UHD) channels broadcasting on c band satellite such as 4KUniverse, C4K360, SPI Funbox 4K, Nature Relaxation, Fashion One 4K, Nasa 4K, Fight Sport 4K and countless 4K sports wild feeds. All are FTA and this is the receiver you need to watch them!
We have a container full of these on the way and expect to start shipping out pre-orders by August 15th, 2017. We will also include this 4K receiver with all our dish package deals so new TVRO customers are ready to enjoy 4K content immediately!
We are the exclusive North American dealer for this product. Don't delay, order your 4K receiver today!