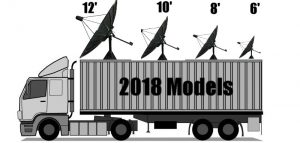 I've been informed this morning that several containers full of mesh antennas have arrived in the port of Vancouver. They have been grounded and will be trucked to our warehouse in Ontario within 2 weeks. After that, all backorders will start shipping out. These are the latest designs
(2018 models)
and include
12′, 10′, 8′ and 6′ dish sizes
and
np roof mounts, pole adapters
and
tall poles
. I will start emailing tracking numbers to everyone next week if you ordered these products, but keep in mind they will only track once they are actually dispatched from our warehouse.
We are still taking pre-orders on these antennas for a few more days. We sold more antennas than anticipated this winter (mostly to Florida and the Caribbean) and anticipate strong spring sales too. I ordered 25% more mesh dish stock for this year, but I can't guarantee they will last to the end of the year. If they don't last, hopefully I will have solid antennas in stock later in the year. But if your preference is mesh, then March/April/May is an excellent time of year to install these!
Thanks to everyone who supports us. Without you, the modern TVRO revolution would NOT be possible!